Graduating from Detroit Engineering Institue in 1980, Dale began his career performing full service on residential & commercial HVAC systems, and oil and gas furnaces. He then moved to southwest Florida, he has successfully started and operated 3 air-conditioned companies, had 3 children. Donald, Jennifer, and Jessica and touched many lives. To the sadness of many people date passed away on Sept 2nd, 2018. He will be missed greatly and his legacy will live on through his son Donald.
Donald Gilman, Owner/Operator
Starting at the age of 13 in HVAC. Donald ran calls and progressed to complete the tri-country apprenticeship program and received training from his father. He has a wealth of experience in factory airflow training and diagnostics.
An avid bowler, musician and state licenced HVAC contractor
COMPANY HISTORY
Gilman Cooling & Heating was founded in the fall of 2013 by Dale and Donald Gilman, father and son, but our experience dates much before that. Dale Gilman got his start in the trade-in 1982 when he attended HVAC trade classes at Detroit Engineering Institute. Shortly after that, he was on his way to Southwest Florida to pursue his career. After many years of hands-on training and experience here in the area, he set out to further advance his career and get his state HVAC license in 1992. Over the course of 20 years, he started and operated two successful HVAC companies. A commonality between them was the number one priority of taking care of our customers.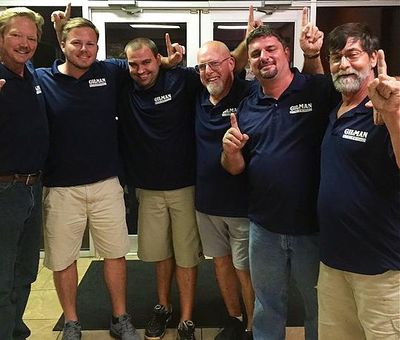 PASSING THE TORCH
Donald Gilman has been around the business his entire life and would work for his father over the summers in high school before starting full time in 2006 when he graduated from North Fort Myers High. Go Red Knights! He started at the very bottom scraping units, cleaning up job sites, and being an install helper. Then Donald got his opportunity to learn the service side and get to deal with customers one on one more often. This opened a whole new door for Donald. There's nothing he likes more than meeting all different types of people and providing the best service possible. Donald has also attended multiple training classes on every aspect of HVAC. After many years of being able to work directly with his father, he obtained knowledge that can't be found in a textbook.
In 2013, the time was right for Dale and Donald to start their own company. After many accomplishments throughout his career, there was still an item that needed to be crossed off the list, obtaining his state HVAC contractor license. So in 2017 Donald passed his state exam and became a state-licensed contractor himself, 25 years after his father.
Unfortunately, on September 2nd 2018, my father Dale Gilman passed away after a long, hard-fought battle with cancer. Through the years of treatments, my dad came into work every day with the greatest of attitudes, he lived life with the greatest of attitudes. I was very fortunate to have had the relationship we did and getting to work together every day.